We offer quieter, more efficient air systems in the form of ductless mini-splits. They are great for specific rooms and are easier to install.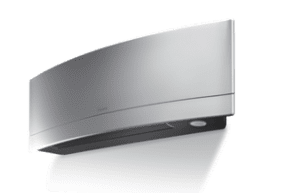 Ductless Systems provide energy efficiency and comfort control with an affordable, cost-saving solution. Available in both heat pump and cooling-only applications, these systems feature streamlined, wall-mounted indoor units paired with quietly compact outdoor units. The indoor unit contains the refrigerant coils to absorb the heat while the outdoor unit absorbs the heat and disperses it into the outdoor air.
The flexible design blends discreetly with any home decor, and is ideal for single room enhancements, spaces requiring additional cooling only, and home additions up to 1,460 square feet.
Our Guarantee
We are proud to partner with Daikin to provide a 10 year or 12 year limited parts warranty on select products.* Our customers receive peace of mind with a factory-backed limited warranty*, extended service plans, and superior products.
* Complete warranty details available from your local dealer or at daikincomfort.com/warranty. To receive the 10-year or 12-year Parts Limited Warranty (select models), online registration must be completed within 60 days of installation. Online registration is not required in California or Quebec.