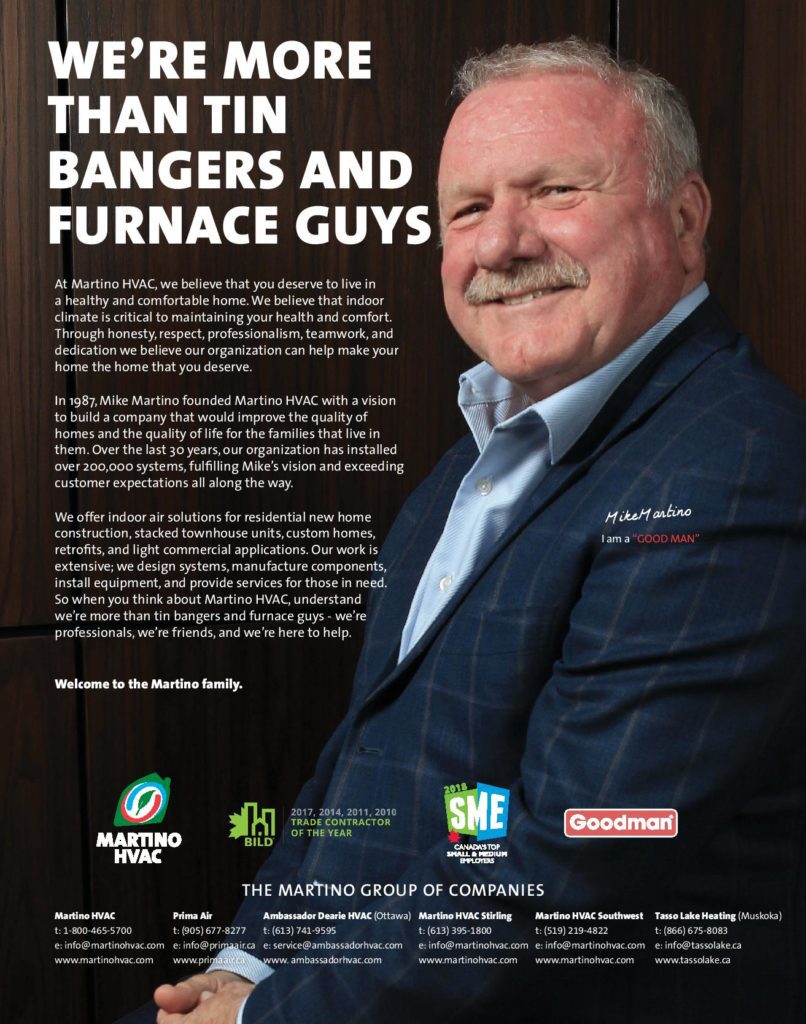 Martino Home Comfort Specialists
We're more than tin bangers and furnace guys
At Martino HVAC, we believe that you deserve to live in a healthy and comfortable home. We believe that an indoor climate is critical to maintaining your health and comfort. Through honesty, respect, professionalism, teamwork, and dedication we believe our organization can help make your home the home that you deserve.
In 1987, Mike Martino founded Martino HVAC with a vision to build a company that would improve the quality of homes and the quality of life for the families that live in them. Over the last 30 years, our organization has installed over 200,000 systems, fulfilling Mike's vision and exceeding customer expectations all along the way.
We offer indoor air solutions for residential new home construction, stacked townhouse units, custom homes, retrofits, and light commercial applications. Our work is extensive; we design systems, manufacture components, install equipment and provide services for those in need. So when you think about Martino HVAC, understand we're more than tin bangers and furnace guys – we're professionals, we're friends, and we're here to help.

Welcome to the Martino family.
To guarantee you the best possible service or installation experience, all of our technicians are certified and have undergone a complete background check.
We are a locally owned Goodman and Daikin Comfort Pro dealer and we are proud of our accomplishments, our service and our commitment to our
Some of our services included
Martino performance proven checklist
Serving the GTA and Quinte Regions for 30 years Family Owned and operated. Fully licensed installers and technicians Goodman Premier DealerHeat n Glo Platinum DealerDaikir Comfort Pro licensed dealer
"Wanted to take a moment to thank you for promptly scheduling the install of our
furnace
humidifier
and service for our HRV system. On that point, I would like you to know that the tech that did the install was on time, knowledgeable and very accommodating in the way he answered all my questions about all the
HVAC
systems in our home. As a first time homeowner it was very much appreciated."
"My wife and I are extremely pleased with our
HVAC
Membership with Martino Contractors Ltd. Their prompt service of our home
furnace
and the central
AC
has provided us with peace of mind. Without any hesitation I would like to compliment their technicians for their knowledge and the professionalism, they are prompt and very friendly. Yes, we would like keep maintaining our membership for many years to come."
"Jake from Martino Contractors was very professional and went above and beyond our expectations. He was helpful in pointing out tips for us to be more efficient. Really appreciated all his hard work. Would recommend them for sure."
"Martino Contractors were very professional and did a fantastic job of installing our new
furnace
. Chris went over and above with his attention to the project, which became more complicated than originally anticipated. We are very satisfied with the results and would highly recommend Martino Contractors in the future."