Get Peace of Mind With Martino Service Plans
Your home is one of your most valuable investments. It's the place to go where you know you'll always be comfortable. Your HVAC (Heating, Ventilation, and Air Conditioning) systems are critical in ensuring your home environment feels just right when you step inside each day. The last thing you want to think about is your systems failing and leaving you uncomfortable when you need them the most. We at Martino HVAC know how important your home comfort is, which is why we have service plans to fit whatever your needs may be.
Proper maintenance is vital for your home comfort systems. When they receive professional, regular attention, any problems will be caught early on and appropriate repairs can be made to avoid any serious damage to your units. Your home comfort systems will receive regular inspection and cleanings to keep them running safely and efficiently, while also keeping manufacturer warranties valid. Martino HVAC can service all brands of equipment, so you get peace of mind no matter what.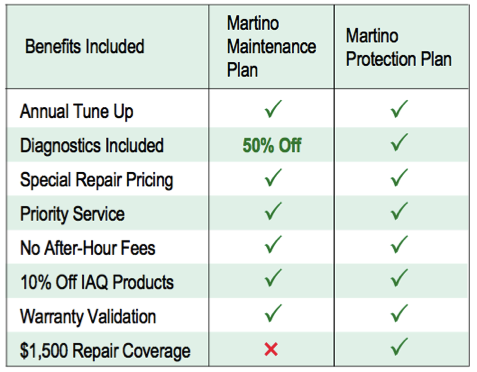 When you purchase Martino Service Plans, you can always trust that your equipment is in good, trustworthy hands as all of our technicians are fully licensed, trained professionals. Our plans allow you to modify your coverage to whatever best fits your needs, and you have flexible payment options to choose from.
And right now, we have amazing bonus offers with the purchase of our service plans!
We are excited to bring you these offers and hope to help you keep your home comfort systems well maintained all year round! See below for a detailed price breakdown of our service plans.
Martino HVAC has been servicing home comfort systems in the GTA and Quinte Regions for over 30 years. We always put our customers' needs first and always strive to provide the very best service possible.
Click here for more information about our service plans or here to contact us today!