There's often confusion about air conditioner SEER ratings and many homeowners have questions about what the rating is, how it's regulated and its relationship to price when shopping for a new cooling system.
The Seasonal Energy Efficiency Ratio (SEER) rating measures how efficient an air conditioner is by calculating the total cooling output during a typical season and dividing it by the total electric energy input during the same period. In other words, a higher SEER equates to a more energy efficient air conditioner.
As of 2006, new residential standards were implemented requiring all central air conditioners to be manufactured with at least a 13 SEER; however, there are air conditioners available with even higher SEER ratings.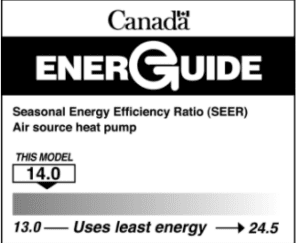 To compare efficiency across multiple different air conditioners, systems come with an EnerGuide label.
These official (but voluntary) labels show how the featured model compares to other in terms of energy efficiency.
The EnerGuide label can help homeowners visualize the energy efficiency of different air conditioner systems quickly and effectively.
Cooling systems with a higher rating will usually be a bit more expensive than systems with a lower rating. However, air conditioners with a high SEER rating require less energy to operate and therefore can cut down on monthly energy bills. With hydro prices continuing to climb, you could see significant savings over the lifetime of the system.
It's important to choose an air conditioner with the right SEER for your needs so that you end up with a cooling system that fits your needs and budget.
Contact us today to schedule your FREE quote for air conditioning replacement and we can walk you through everything you need to know about SEER ratings.
Martino HVAC serves the GTA along with Durham, Halton, Peel, York, and Quinte & Kawartha regions. We provide reliable heating and cooling installation in addition to indoor air quality solutions.
Connect with us on Facebook and Twitter for home comfort tips, tricks and advice!