Take Advantage of GreenON Ductless Rebate at Your Muskoka Cottage
Many people in the GTA escape the fast-paced living of the city and head north to relax. With spring fast approaching, many cottage owners will be soon heading to Muskoka to get their second homes ready for the upcoming season. As part of your spring cleanup, take a moment to assess your heating and cooling situation at the cottage.
Many cottage owners rely on space heaters or window air conditioners to keep the temperature comfortable inside—this provides inefficient and unreliable heating and cooling. With the announcement of the latest GreenON rebates, many Muskoka cottage owners could be eligible to install a ductless air source heat pump to provide year-round comfort. You could extend your cottage season into the fall with heat and ensure that you sleep comfortably during the hot, humid summer nights.
What is an air source heat pump (ASHP)?
ASHPs provide both heating and cooling to homes and cottages. In the summer, a heat pump removes warm air from inside and transfers it outside. An added benefit is that it also removes moisture—acting as a dehumidifier.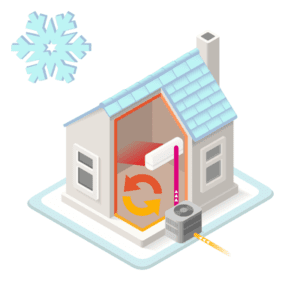 In the winter, the cycle reverses and heat is pulled from outside and transfers it indoors. While it might seem counterintuitive to think that there's heat in the winter air—there is! There are even specially made cold climate air-source heat pumps that operate in temperatures of -25 degrees Celsius.
ASHPs don't require ducts to distribute air throughout the cottage. Instead, an outside unit is connected to an indoor unit—called a head—through a small pipe. Heated or cooled air is then delivered directly to the room the head is installed in. Multiple heads can be installed throughout the cottage to provide zoned heating and cooling.
Current GreenON rebates can help you save up to $5,800 on a new ducted ASHP or save up to $4,000 on a ductless ASHP system. These rebates are perfect for cottage owners because the incentive is only available to homes (or cottages) that are electrically heated.
If you'd like to upgrade your comfort at the cottage, contact Martino HVAC for more information, or get your free quote today.
Martino HVAC serves the GTA along with Durham, Halton, Peel, York, and Quinte & Kawartha regions. We provide reliable heating, cooling installation and repair in addition to indoor air quality solutions.
Connect with us on Facebook and Twitter for home comfort tips, tricks and advice.